Vascular Surgery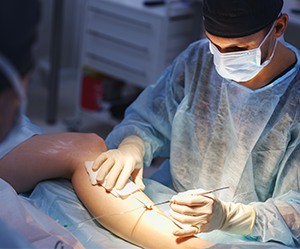 The Vascular & Endovascular Division at UMC-SJH is dedicated to provide all patients with state of the art integrated multidisciplinary approach to both the treatment of vascular diseases as well as the promotion of vascular health and wellness. We thrive to have unique centers of excellence that will deliver world-class personalized care to both national and international patients.
Our multidisciplinary programs include:
Stroke and carotid disease program
Aortic treatment program
Hypertension program
Limb preservation program
Dialysis and vascular access program
Varicose vein and venous insufficiency program
Complex Wounds Care program
The Vascular & Endovascular Division at UMC-SJH is divided into 6 main services:
Non-invasive Vascular Laboratory
Peripheral Vascular Laboratory performs non-invasive ultrasound examinations to diagnose conditions relating to arteries and veins. The results of these exams assist the vascular surgeons in planning individualized treatment for each patient. Vascular ultrasound is also used for long term monitoring of vascular related conditions. A wide range of diagnostic examinations are available, including:
Venous duplex examinations to diagnose and treat deep venous thrombosis, venous insufficiency, venous ulcers, and arterio-venous malformations.
Arterial physiological and duplex examinations to identify blockages in arteries and assist in assessing the severity of disease in the arms or legs. Also used to monitor disease process post intervention.
Carotid duplex examinations measure blockage in the carotid arteries that may increase the chance of a stroke occurring.
Abdominal duplex examinations used to diagnose the presence of abdominal aortic aneurysm, to evaluate endovascular repair of these aneurysms and to assess the other arteries and veins of the abdomen for disease.
Duplex examinations are also performed to assess the function of arteriovenous dialysis fistulas and grafts.
These exams are performed by an experienced registered vascular technologist and interpreted by the division's vascular surgeons
Outpatient Clinical Service (clinic consultations)
Our goal is to provide excellent patient care that is compassionate, appropriate, and effective for the treatment of health problems and the promotion of vascular health.
Endovascular and Vascular Surgery service
Our goal is to apply accepted treatments and new technologies with sound clinical judgment. We integrate minimally invasive therapies such as laparoscopy, image guided and endovascular catheter-based approaches with traditional open surgery to provide the best possible treatment for each individual patient. Our knowledge of diseases, experience with traditional treatment options and expertise with cutting edge modalities distinguishes us from other centers. We provide clinical expertise in all areas of vascular and endovascular surgery:
Endovascular or Catheter-Based Procedures Open Procedures
Diagnostic Arteriography Aortic Aneurysm Repair
Diagnostic Venography Aorto-femoral Bypass
Intravascular Ultrasound Carotid Endarterectomy
Angioplasty and Stenting (all arteries ) Carotid-Subclavian Bypass
Thoracic aneurysms endografting (TEVAR) Hybrid procedures
Abdominal Aneurysm endografting (EVAR) Aortic and Mesenteric bypass
Aortic dissection repair Lower Extremity Bypass
Thrombolysis of clots (Arterial and Venous) Hemodialysis Access
Renovascular hypertension Upper Extremity Bypass
Renal denervation Renal bypass
Coil embolizations Multidisciplinary limb salvage
Arteriovenous malformations Placement of infusion ports
Removable IVC Filters Placement of long term access
Dialysis Access Venous Procedures
Arteriovenous fistula creation Venous insufficiency
Arteriovenous graft placement Pelvic congestion syndrome
Hemodialysis catheter placement Endovenous ablation varicose veins
Peritoneal dialysis catheter placement Perforator vein ablation
Angioplasty and stenting of failing
dialysis Access Sclerotherapy laser and injection
Difficult access Stripping and ligation
Wound care
Diabetic wound care
Complex wounds
Non-healing arterial and venous ulcers
Teaching Service
The Vascular and Endovascular Surgery program is designed to prepare students and residents to provide personalized, comprehensive, and the highest quality surgical care. The program provides the educational resources appropriate for the development of proficiency in the diagnosis and treatment of diseases of the arterial, venous, and lymphatic systems and the clinical educational experiences for the trainees to excel in multidisciplinary communication and professionalism.
Research program
The development of LAU and UMCSJH as a strong 21st century academic institution requires that the research component assume a highly visible and important role. We have ongoing clinical research relating to many areas of vascular surgery, and work closely with our medical students to get them involved in research from their first year on.
Simulation program
There are elements in vascular education, which continue to evolve due to emerging technologies and techniques. For the trainee to remain well versed in these applications, he/she may find that there is a need to not only acquire skills during training, but also even afterwards as one enters practice. Simulation can provide such an opportunity on many levels.