General Surgery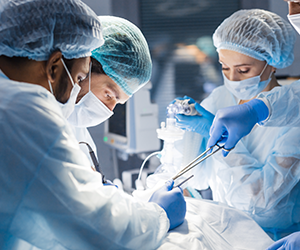 The Division of General Surgery is an active clinical service covering several sub-specialties including abdominal and digestive system, metabolic and bariatric, endocrine, hepatobiliary, and colorectal surgery. The division members also take care of benign and malignant breast disease, abdominal wall hernias, skin and soft tissue pathology and surgical emergencies including trauma and critical care.
Common conditions treated by our general surgeons include hernias, gallstones, appendicitis, breast tumors, thyroid and parathyroid disorders, acid reflux, achalasia, pancreatitis, bowel obstructions, colon inflammation, and colon cancer.
Laparoscopic surgery has become an integral part in our daily practice where we perform complex intra-abdominal operations with minimally invasive surgical techniques. This has been applied to virtually all aspects of intra-abdominal surgery including cancer resection.
We work closely with our colleagues in the medical oncology division, gastroenterology, endocrinology and other divisions to provide patients with the best multi-disciplinary care. We offer state-of-the-art multidisciplinary approaches to patients with breast cancer, working closely with plastic surgery division for breast reconstruction.  We also offer our patients all the diagnostic and therapeutic procedures in the surgical treatment of thyroid and parathyroid pathologies.  Our surgical oncology service can handle all oncological conditions related to the stomach, liver, pancreas, colon and rectum.
Surgical Oncology
The Division of Surgical Oncology within the Department of Surgery at Lebanese American University Medical Center Saint John's Hospital LAUMC-SJH provides advanced surgical treatment for patients afflicted with cancer and fosters cancer research and education.
The goals of this division are to provide the most comprehensive, progressive surgical management available for individuals with cancer, to educate students, resident and physicians in these methods and to expand research in this field.
The optimal management of patients with cancer requires a multi-disciplinary team approach. The division of Surgical Oncology works closely with colleagues from the medical oncology and radiation oncology departments. Our surgeons collaborate with other services such as internal medicine, Gastroenterology, Hepatology and Operative Endoscopy, Radiology, Nuclear Medicine, Interventional Radiology and Pathology as well as Thoracic Surgery, OB GYN, Plastic Surgery, Urology and ENT and other Disciplines. Cancer patients often require nutritional and mental support and our division stresses on the importance of healthy diet, exercise and mental support as part of comprehensive cancer management. We conduct a weekly multidisciplinary meeting to review details of our patients' disease and to come up with a tailored surgical or medical therapeutic plan.
Our Surgeons are Board certified in General Surgery (American or European), have received additional training in Surgical Oncology and are active members of International Societies in the field of cancer treatment and research.
The Surgical Oncology Division team members treat all Cancers of the Gastrointestinal (GI) tract using both open and minimally invasive approaches. We offer comprehensive treatment of a variety of cancers, Including:

Cancer of the Esophagus and Stomach
Cancers of the colon, rectum and peritoneal surfaces
Cancers of the liver and bile ducts
Pancreatic cancers and cystic neoplasms and Neuroendocrine cancers
Breast Cancers
Melanoma &High-Risk Skin Cancers
Sarcomas and retroperitoneal tumors
Endocrine Tumors (Thyroid & Adrenal Gland)
Debulking for Gynecology Malignancies
Metabolic and Bariatric Surgery
Obesity has become one of the most common and prevalent medical problems in today's society. Obesity can lead to numerous health problems including diabetes, heart disease, obstructive sleep apnea, high blood lipids, among others. It can lead to premature death and can increase the risk of developing certain cancers such as breast, uterine, esophageal and colon cancer. In addition, obesity can lead to depression, physical and mental impairment, and can reduce work productivity. Patients try diets and medications to lose weight, but often fail to maintain or sustain adequate weight loss. Metabolic and Bariatric Surgery (M&BS) is to date the most effective way to treat morbid obesity when other alternatives fail. M&BS can help patients achieve significant and sustained weight loss and more importantly reverse and improve obesity related health problems such as diabetes and sleep apnea.
Our surgeons are experts in M&BS and have performed thousands of open and laparoscopic procedures with an excellent safety record. Our M&BS service is set-up in a multi-disciplinary form in close collaboration with the nutrition and dietary, mental health and medical services. We take pride in the close and long-term follow-up that we offer to patients.
The following is a list of the most common M&BS procedures offered:

Adjustable Gastric Band
Roux-y-gastric bypass
One anastomosis (mini) gastric bypass
Sleeve Gastrectomy
Gastric Plication
Duodenal Switch
Single anastomosis duodena-ileostomy (SADI)
Revisional bariatric surgery