Neurosurgery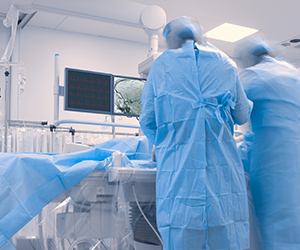 As a medical specialty, Neurosurgery addresses the prevention, diagnosis, treatment, and rehabilitation of disorders that affect the entire nervous system. The Division of Neurosurgery at LAUMC-SJH provides the full range of contemporary neurosurgical practice. Pathologies affecting both the adult and the pediatric populations are taken care of by a comprehensive multidisciplinary team structure aiming at securing a state of the art medical and surgical management. To better address complex neurologic and neurosurgical problems, we integrate research, training, and technology to the finest clinical care. The Division of Neurosurgery remains focused on what matters most: the quality of patients' lives and their long-term good outcome. It is our belief that team-work, availability, medical expertise, and honesty constitute the foundations to provide the best neurosurgical care to our patients.
Clinical & Surgical Services
The Division of Neurosurgery has a comprehensive range of services offered and performed by highly qualified surgeons and spanning several subspecialties like Neurooncology, Cerebrovascular and Skull Base surgery, Spine surgery, Functional and Stereotactic Neurosurgery, Peripheral nerve surgery, Endoscopic surgery, and Pediatric neurosurgery. Neurosurgical patients are monitored when needed in a dedicated Neurointensive care unit where intracranial pressure, brain temperature, and brain oxygen partial pressure can be recorded. A strong and tight collaboration is available with Neuroradiology for the performance and interpretation of all sophisticated neuroimaging. Interventional Neuroradiology is our best ally for the team management of complex neurovascular cases. Intraoperative neuromonitoring with expert neurophysiologists on the field is available to our patients when clinically indicated. We routinely use computer-assisted surgery for intraoperative neuronavigation. The Division of Neurosurgery trains neurosurgical residents since 2013 and this further ensures its commitment to Excellence in Education in its exclusive adoption of Evidence-based Medicine.
General Neurosurgery
We treat with common pathologies in neurosurgery with special interest in neuro-oncology
Neurotraumatology: Approaches complex cases relating to the brain and the cord traumatology.
Pediatric Neurosurgery: Pediatric neurosurgery handles congenital malformations of the central nervous system and brain tumors of children.
Stereotactic Neurosurgery: A percutaneous technique which treats some brain pathologies avoiding open craniotomies.
Pain Surgery:  This type of surgery treats pain as a disease whenever the etiology or cause of the disease is beyond any therapeutic reach.
Spine and Cord Surgery:  We use this type of surgery in cases of complex spine diseases, cord tumors, and malformations.
Historical Events
First Stereotactic Surgeries in Lebanon: Bullet Extraction, Hematoma and Abscess Evacuation, Ventriculostomies.
First Micro-compression of the Gasserian Ganglion for pain management.
First Thermorhizotomy of the Glossopharyngeal Nerve for pain management.
We were the Lebanese Army's first choice for neurosurgery during the Nahr El Bard war in 2007.
Established in 1991: We are one of the first stereotactic units in Lebanon.