Plastic & Reconstructive Surgery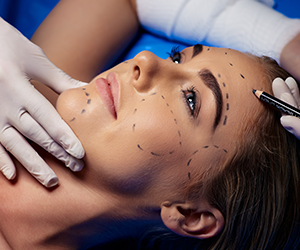 Our goal is to treat our patients the way we would like to be treated. We believe our patients deserve our total attention and effort. We will spend as much time as we can with every patient to give the individual attention he or she deserves. The plastic surgery care that we want to provide is based on our years of experience, sound medical and surgical judgment and empathy.
Clinical Services:
We provide both reconstructive and cosmetic surgery; a description of services follows:
Reconstructive Surgery
Breast Reduction: Mastectomy or breast removal, total or partial, is often followed by breast reconstruction.
Skin Cancer Treatment: A plastic surgeon is trained to diagnose and remove skin cancers, as well as repair any discoloration or scars that may be left from the original surgery.
Facial Deformities: This is a frequent type of reconstructive surgery which repairs facial deformities, many of which were corrected during childhood.
Congenital Malformations: Such examples are birthmarks, misshapen or missing proportions of the nose, ears without earlobes, and malformed or missing eyelids. In some cases persons are born without certain features, such as ears or noses, and these can in some places be built and added.
Post-Trauma Repairs: This deals with trauma including burns, as well as injuries from vehicle accidents, explosions, industrial accidents and crimes.
Female Breast Reduction: Women seeking breast reductions may experience back, neck or shoulder pains due to the size of their breasts. The proportion of their breasts may be too large relative to their body, or may hang heavy pointing downwards causing bra strap indentations.
Male Breast Reduction:  Gynecomastia is a clinical term for male breast overdevelopment. This can result from certain drugs or medical problems, but in most cases there is no known cause. They are quite common affecting 40 to 60 percent of men. This corrective surgery should be considered only after a complete physical examination in order to exclude possible reasons and suggest appropriate solutions.
Facial Nerve Paralysis: Is a complication resulting in the lack of control or movement of the face which can be related to paralysis or other causes. In some cases, surgery can restore some control. It may allow a person who has suddenly or gradually lost the ability to speak or move part of his face, to restore normal functionality.
Plastic Surgery After Weight Loss : The procedures we cover include but are not limited to:
Abnominoplasty/panniculectomy (tummy tuck)
Brachiplasty (arm lift)
Mastopexy (breast lift)
Breast augmentation
Circumferential lower body lift
Thigh lift (with or without previous liposuction)
Gluteal augmentation
Face lift
Cosmetic Surgery
Face Lift: These surgeries lift portions of the face, eliminating excess skin, wrinkles, fat deposits and increases muscle tone; leaving a look that can also be uplifting for the patient's self image.
Eyelid Surgery: Surgery of the eyelids can also improve one's self-esteem, eliminating the results of aging on the skin or removing unneeded excess skin. Typical procedures include removal of fat deposits, drooping tissue in upper or lower lids, and the small wrinkles or "laugh lines" that appear around the eyes.
Chin Implants: This surgical procedure involves reshaping of the chin bringing a more harmonious balance to the face. It may be performed alone or in conjunction with other treatments.
Rhinoplasty: This is a cosmetic surgery for the nose which is performed when a person feels their nose is not in balance with the rest of their face. They may feel that it is disproportionate or it may result when a person's nose is injured through an accident causing its malformation.
Correction of Prominent Ears: Correcting prominent ears or reducing the sizes of ears is an elective procedure that can drastically enhance appearance and self-esteem. It's often performed at childhood, after the age of 4, though it can be done on adults as well with similar success.
Breast Enhancement:  The size and shape of a woman's breasts may affect how she forms her self-image. She may consider her breast size too small in proportion to her body, or her breasts may have changed in size after pregnancies.
Tummy Tuck: Is a procedure where excess fat and loose skin beneath the tummy is removed, which tightens that abdominal area.
Liposuction: When healthy eating, calorie watching and specialized exercises fail to eliminate localized fat, liposuction may help you restore that shape you are trying to achieve. Liposuction is the surgical removal of excess fatty tissues in localized spots or regions of the body.
Tattoo Removal: Depending on the location or the size of the tattoo, and the patient's skin color and age, more than one removal technique may be employed. In many cases, multiple treatment sessions are required for effective results.
Scar Reduction: whether from an injury or a previous surgery, can never be removed completely. They can, however, be minimized